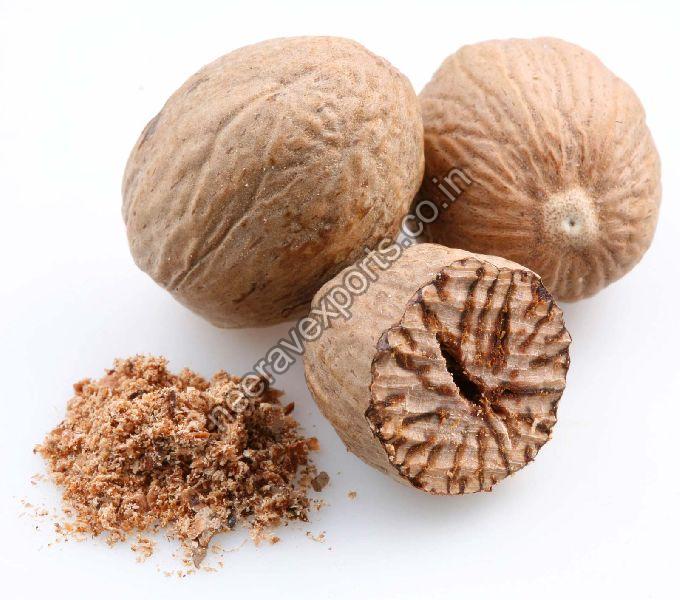 India is known as the land of spices. A typical Indian kitchen has containers filled with different spices that are arranged neatly. One such spice that you will find in one of those many containers is nutmeg. This spice is valued for the sweet aroma and it is a seed of an evergreen tree that is mainly found in Indonesia. A lot of Indian dishes are made using nutmeg for its amazing aromatic feature and distinct flavour. But nutmeg is more than just a spice that enhances the smell and taste of the food.

Nutmeg also has amazing nutritional value. Some of the benefits of having nutmeg are as follows:

Improves Digestive System
Whole nutmeg is known to have amazing medicinal properties that help in treating problems related to digestion and stomach ulcer. Sometimes, even Indian desserts are laced with a little nutmeg for the same reason.

Helps Treat Insomnia
Nutmeg has properties that treat insomnia. A little nutmeg in a glass of warm milk has proven to induce sleepiness in many people. A lot of mothers give their children warm milk with a little bit of nutmeg powder mixed in it. This is an age-old tradition that has been passed on for generation because it is, in fact, highly effective. Nutmeg for inducing sleep organically and healthily of treating insomnia.

Reduces Pain
It is found that nutmeg has anti-inflammatory properties. This helps in reducing the pain and discomfort. This beautiful spice also has chemicals such as elemicin, myristicin, eugenol and safrole that makes it useful for reducing pain. These chemicals are found in nutmeg oil. The advantages of nutmeg oil treat inflammation, swelling, muscle spasms, joint pains, sores and pains.

Helps In Brain Activity
Nutmeg works as an aphrodisiac, which means that it can help stimulate the nerve cells of the brain. This spice has chemicals that help release the good hormones in your body and provides a calming effect on you. It also lifts your mood and works as a tonic. To treat stress and tension, nutmeg is a great option.

Great For Your Skin
If you do not like using chemical products on your skin and are in search of a natural product that can do wonders for your skin, then nutmeg is the best choice for you. This spice has plenty of benefits for your skin and face. It also has amazing antimicrobial and anti-inflammatory properties that help keep your skin healthy, supple, unclog the pores and removes blackheads. This is also used as a scrub by many people. The best way to use this amazing spice is to mix it with honey in a powdered form and gently scrub it on your skin.

Treats Bad Breath
Bad breath is an overload toxin in your body. Nutmeg is also known to have antimicrobial and antibacterial properties and it can help clean your system. Eugenol is one of the most essential oil that is found in nutmeg. This helps reduce bad breath and also relieves toothache. Therefore the whole nutmeg is the best thing that you can use and solve your problems.

Choose to deal with the best whole nutmeg exporters and get products that you can use for various purposes.
This entry was posted on May, 08, 2021 at 13 : 23 pm and is filed under Whole Nutmeg. You can follow any responses to this entry through the RSS 2.0 feed. You can leave a response from your own site.